GOSPEL TOUCH CHOIR came back for a Concert with Trinity & St Martin's School Choirs at Ebenezer Methodist Church, on Saturday, 1st December 2018. They came last year as part of our annual Candlelight Service; our church was packed & the building rocked to some wonderful singing; & the children had an amazing exeprience with this choir.
So, this year we changed the format , & we had very good turnout at all 3 events ; & also their busking in town & restaurants.
The 2 schools loved working with them again , & the children gave great performance at our concert.
BBC TV & radio gave them some good coverage as well. Some of this coverage is on GTC's facebook page.
They are keen to come back to Jersey after receivng such a great reception around the island .They went to the Opera House to introduce themselves, as they want to bring their 'Sister Act' show over next June. They think the venue is perfect, but need to work out all the logistics if it is to happen & costs involved.
At our Pickles music making session in our church, we had over 40 kids & some mums who don't usually come to Pickles ,as they had been invited by our mums after enjoying last year's event.
Over 200 came to the concert on Saturday. Donations received in total from these 2 events for the 2 charities , plus we spilt church Sunday cash collection between EB. & the other 1/2 shared with them ; A total of £600 donated.
We asked the 2 schools to choose their charities,as they have been so helpful in getting involved with this visit. So cheques for £300 were sent to EYECAN, Jersey & CLIC Sargent Jersey.
Below photo of the 7 members in our church after the Sunday Advent Service 2018.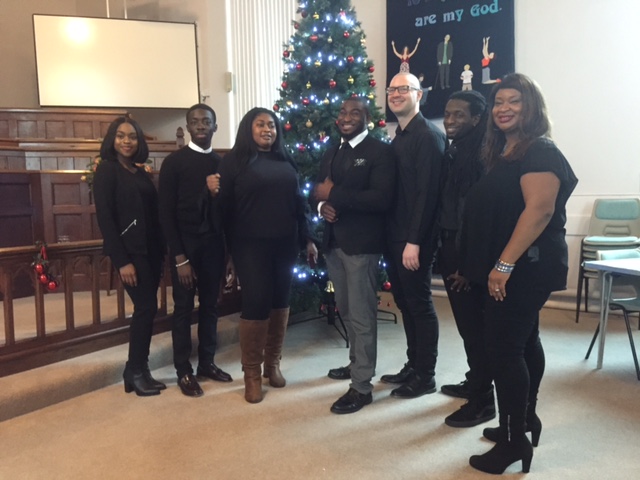 The Awards Winning Gospel Touch Choir has graced the airways of BBC (The One Show), ITV (Ant&Dec Saturday Take Away) and Chanel 4 (Christmas with Jamie Oliver). Our artists have also performed at St James' Palace for Prince Charles and Camilla, Duchess of Cornwall, at the Olympics Closing Ceremony, at the Batas, on Songs of Praise at the BBC, the O2 Arena, Manchester Arena, the Queen Elizabeth Olympic Park, Royal Albert Hall and Wembley Arena amongst many others.
Their ability is not just restricted to England; our members have sung across the globe at events in China, Israel, Italy, Mexico, Netherlands, Portugal, Spain, United States.